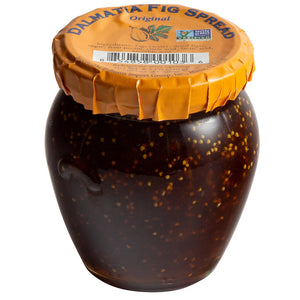 Dalmatia Fig Spread
When you indulge in this delicious Dalmatia fig spread, your senses will transport  to Croatia's Dalmatian coast along the Adriatic sea, where warm sunlight shines on fig trees as soft ocean breezes tickle their leaves.
This rich, full-bodied, fruity fig spread is made from figs that are hand-picked from these trees; each fruit is carefully inspected by hand to ensure that it is first class. The result is a pure, delicious spread that is perfect for adding a touch of sweetness to any dish! Its smooth consistency is studded with fig seeds that add a hint of crunch and a subtle nuttiness to the spread's flavor profile.
This indulgent spread makes a great addition to the menu of any establishment. Place a jar of this fig spread next to your cheese plate or charcuterie board; its sweet, nutty flavor complements any cheese from sharp blues to creamy bries! Slather this spread on a toasted baguette slice with goat cheese and walnuts for a delicious crostini appetizer. You can also combine this fig spread with extra virgin olive oil and balsamic vinegar to create a flavorful, sweet salad dressing! At breakfast, spread this product over a toasted bagel layered with cream cheese, or stir into plain Greek yogurt with chopped almonds for a delicious start to the day. This product can even be included in glazes and marinades: try mixing it with a bit of balsamic vinegar, pouring over chicken, and baking with cherry tomatoes on top for a sweet and savory dish with lots of complexity of flavor. No matter how you choose to use it, this Dalmatia fig spread is sure to bring the delicious flavor of the Mediterranean to your menu!
Since 1995, Dalmatia has been creating sweet and savory spreads for every occasion using ingredients that are sourced from farms on the scenic coast of Croatia. Their aim is to craft delicious products while supporting local farmers and regional agriculture. Each fruit is inspected by hand before being cooked into their signature spreads, ensuring that their products are of the highest quality. Dalmatia's line of spreads is sure to delight your customers while taking your baked goods, charcuterie board, or antipasto plate to the next level!